Service periods must be defined in GTFS Manager in order for your data to properly be displayed in online applications. Service periods define a starting and end date of service and can be assigned from the main dashboard in the Calendars tab, while specific days of operation are chosen when assigning a trip to a calendar.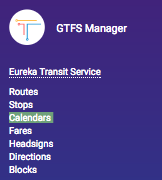 Calendars define the times of the year that a particular schedule runs. If your agency runs the same schedules every week (other than on excepted days like Holidays & Exceptions) then you'll only need a single annual service calendar that extends through the next year.
New calendars can be created by selecting "Add Calendar" and then selecting "Add a service period" and selecting the dates of operation. After trips have been added to a service period on a routes schedules page, a summary of routes and days of the week with scheduled trips will appear as shown in the following screenshot. 
If the service calendar is made up of non-continuous dates (for example, a school-related schedule that runs while school is in session), then multiple service periods should be set up to prevent service being displayed during the gaps. If there are individual days that operate differently than those around them, Holidays & Exceptions can be used to add or remove service on those days.
(See also: Calendars (Video))