During the course of a calendar that lasts for an extended period (for example, all year) there may be days which do not follow the general pattern. Trips can be easily set up to operate on different days of the week (weekday trips vs. weekend trips) but if there is a single day or series of days that operate differently than those around them, we'll need calendar exceptions. The classic case here is the holiday. Many transit systems do not operate or operate on a limited schedule on federal holidays like Labor Day, MLK Day, Christmas, etc.
In order to set up a calendar exception in GTFS Manager, select "Holidays & Exceptions" from "Calendars" which is located on the agency dashboard. On this screen, you can "Add a Service Exception" at the top of the screen.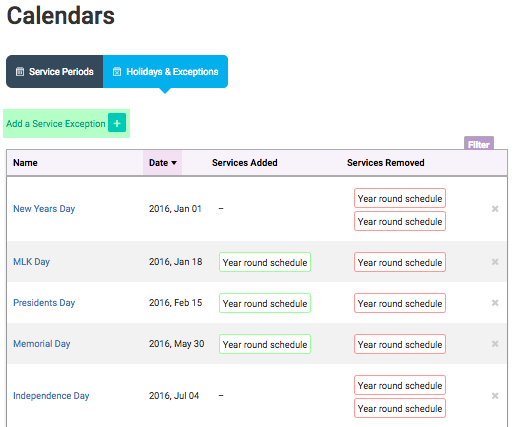 Calendar exceptions don't just cancel services that don't run on a particular day, but can also "switch out" one set of trips for another. For example, perhaps on Memorial Day your system operates on a Saturday schedule instead of the Monday-Friday schedule. You can use a calendar exception for this, by creating an exception for the correct date, selecting the Monday-Friday schedule as "Services Removed" and selecting the Saturday schedule as "Services Added" as seen in the following example.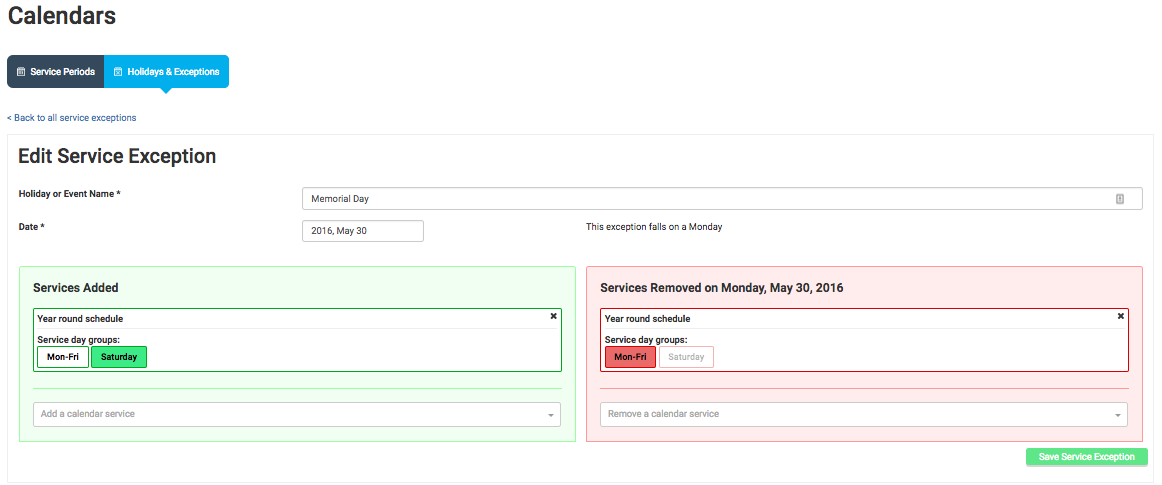 (See also: Calendar Exceptions (Video))