GTFS stands for the General Transit Feed Specification. GTFS defines a common format to describe Stop, Route, Schedule, Calendar, Fare, and other elements for fixed-route transit services.
GTFS Feeds allow public transit agencies to publish their transit data and allow developers to write applications that consume that data so it may be integrated into transit information on websites and applications. One of the most widely recognized is the Google Maps transit trip planner.
Overview of a GTFS feed
A GTFS Feed contains a wide range of text files that work together in concert to describe transit services.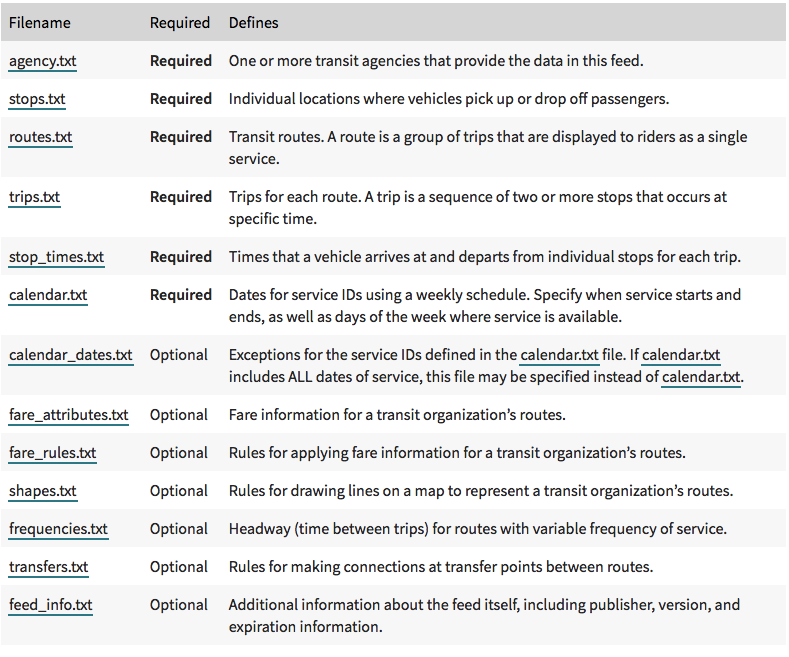 GTFS Manager makes it easy to update and manage these files by providing a human-readable, easy-to-use software for agencies of all sizes to manage GTFS, from small agencies running a few routes to multi-entity agencies operating hundreds of routes.
Making a Transit Feed Publicly Available
GTFS data is made available when it is hosted on a web server. There are main directories for making GTFS data discoverable for 3rd party application developers:
Learn More