A Stop Pattern is a part of a Route. Most commonly, a Stop Pattern refers to:
A single direction of service, such as Inbound, West, or Clockwise.
Abbreviated service, such as the last trip of the day servicing fewer stops.
Elongated service, such as the first trip of the day picking up riders at a train station.
Deviated service, such as a 7:00am trip servicing a high school.
The term Stop Pattern refers to a unique order of stops for that Route. There is also Timed Pattern that refers to a unique timing between those stops for that Pattern.
Overview
Example #1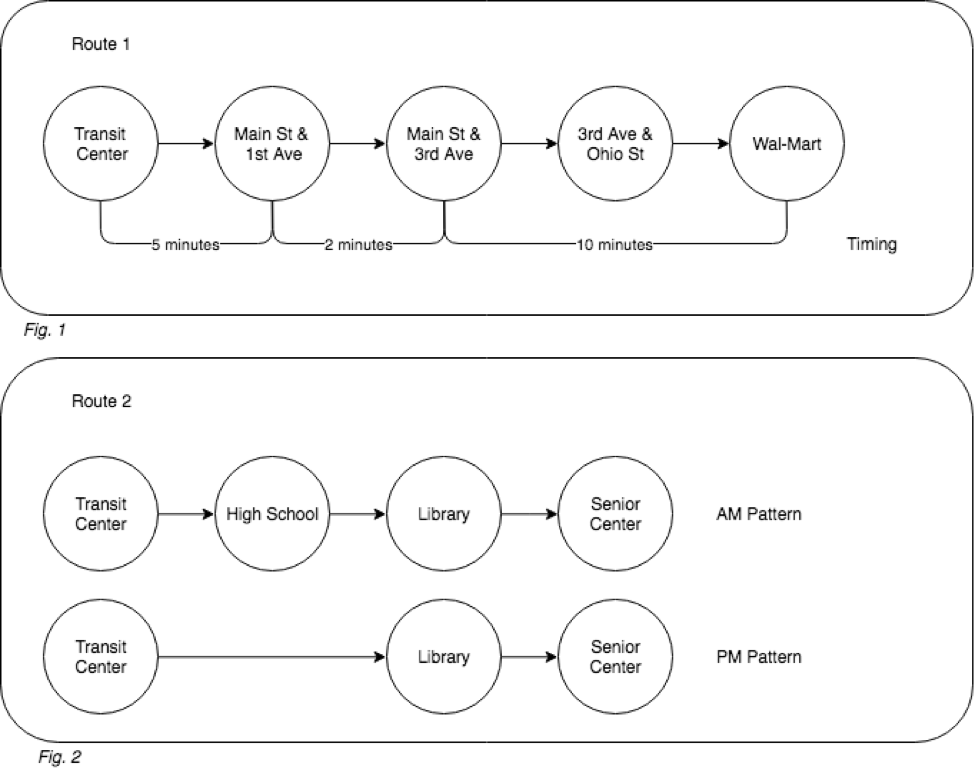 In Fig. 1 we have a Route that has five stops. The same five stops are served in the same order all day long. It always takes about 5 minutes to get from the Transit Center to Main St & 1st Ave, another 2 minutes to get to Main St & 3rd Ave, and about 10 minutes to get to Wal-Mart via 3rd Ave & Ohio St. On my printed  timetable, this may look like this 
Route 1 (Monday-Friday)

Transit Center

8:00 AM

9:00 AM

10:00 AM

11:00 AM

Main St & 1st Ave

8:05 AM

9:05 AM

10:05 AM

11:05 AM

Main St & 3rd Ave

8:07 AM

9:07 AM

10:07 AM

11:07 AM

Wal-Mart

8:17 AM

9:17 AM

10:17 AM

11:17 AM
In Fig. 2 we have a  Route that has two different patterns: one for in the morning, that services the High School, and one for the afternoon, that does not. I can also have different timing in the afternoon since the High School isn't serviced. On my printed timetable, it may look like this 
Route 2 (School Days Only)

Transit Center

8:00 AM

9:00 AM

1:00 PM

2:00 PM

High School

8:05 AM

9:05 AM

 

 

Library

8:15 AM

9:15 AM

1:10 PM

2:10 PM

Senior Center

8:20 AM

9:20 AM

1:15 PM

2:15 PM
Example #2
Using this Southbound timetable as an example, you can see there are two different stop patterns:
One that start at the Forest Service Park & Ride
One that starts at the Vail Transportation Center
(We are not focusing on stop times here, just the sequence of stops served)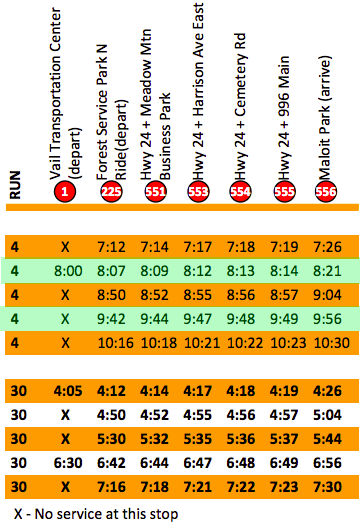 If we look at the corresponding Patterns page, we can see the two Southbound trips each assigned a label that describes the stop pattern. You can edit these labels to match internal or convenient naming.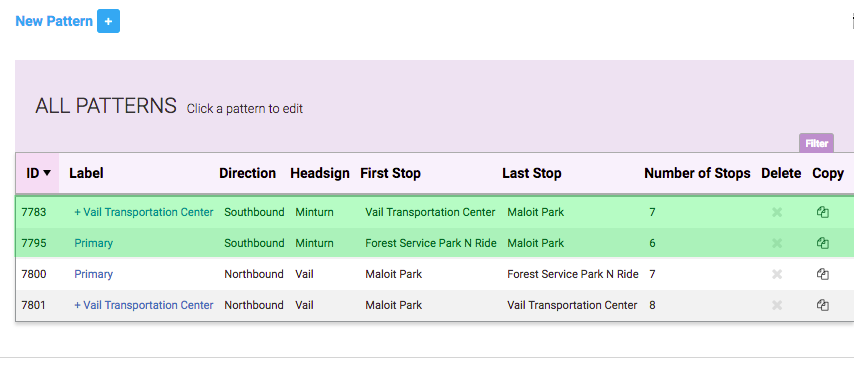 If we click on the Pattern labeled + Vail Transportation Center we can see that it matches the Stop sequence of the highlighted Trip departing at 8:00.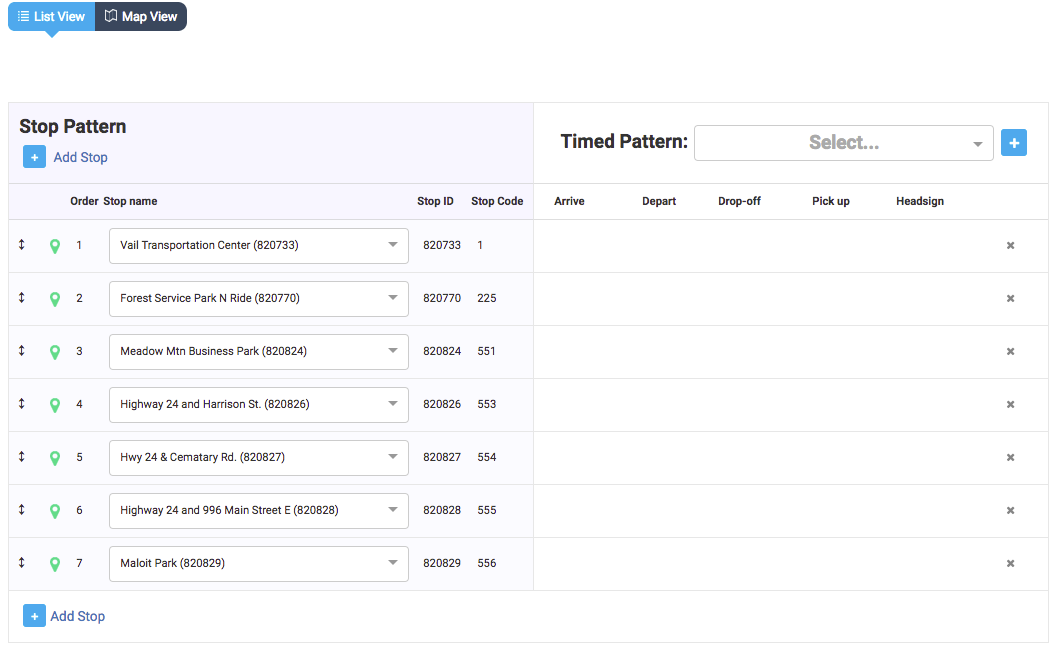 Learn More: