Patterns consist of two parts, Stop Patterns and Timed Patterns.
Stop Patterns are Stop variations on your Route, such as Trips servicing different Directions, or abbreviated, elongated or deviated service based on different times of the day. Each can have its own number of Timed Patterns.
Patterns Overview:
How is a Pattern Different Than a Route?
A Stop Pattern is a part of a Route. Most commonly, a Stop Pattern refers to:
A single direction of service, such as Inbound, West, or Clockwise.
Abbreviated service, such as the last trip of the day servicing fewer stops.
Elongated service, such as the first trip of the day picking up riders at a train station.
Deviated service, such as a 7:00am trip servicing a high school.
The term Stop Pattern refers to a unique order of Stops for that Route. Associated with a specific Stop Pattern are Timed Patterns which refer to unique timing between those Stops for that Stop Pattern.
Learn More:
How Can I See My Patterns?
Each Route has its own set of Stop Patterns available under the Patterns tab. Stop Patterns are by default sorted by Direction but can also be sorted by ID, Name, Number of Stops, etc. You can also Filter your list.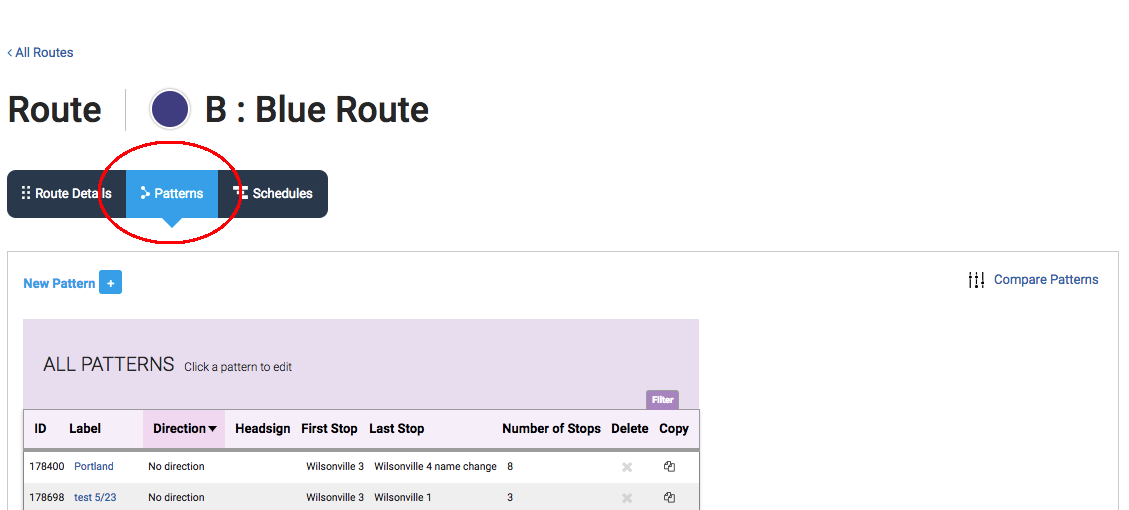 How Can I See Which Patterns Service Which Stops?
Use the Compare Patterns link to see a graphical representation of each Pattern, broken out by Direction. This is helpful if you are unfamiliar with the way your Patterns are named or are looking for a specific Stop order.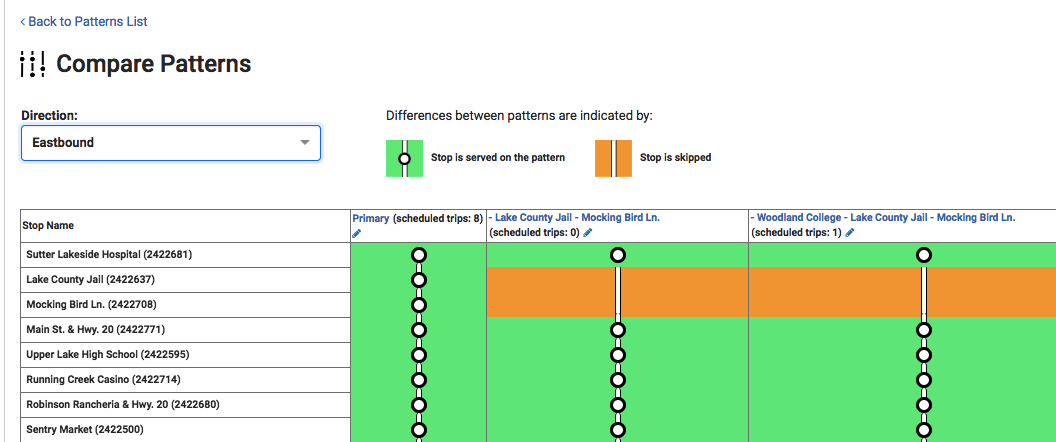 Why Are There Patterns Named "+ 10 stops - 6 stops"?
In some cases, your Stop Patterns may have been named automatically based on an existing GTFS or by Trillium Staff. In cases where there are number of Stops added and subtracted, this is referring to the addition or removal of Stops from the Primary Pattern for that Direction on that Route. Generally the Primary Pattern is the one that is either most frequently used in the Schedule or one of the longest in terms of number of Stops.
You can rename your Patterns to suit your internal needs or convenience. Learn more about how to Edit a Stop Pattern.
Learn More