A Trip is a single run of a Stop Pattern and Timed Pattern at a defined start time. In your Schedule, you may call these "runs" or even "routes."
Overview
How is a Trip Different from a Timed Pattern?
Timed Patterns must be assigned to a Trip in order to display in your GTFS. While using offset shows what the stop times would be if that Timed Pattern were employed at a designated time, it does not generate a scheduled Trip (and thus does not show up on your Schedules page.)
What You Need Before You Can Schedule a Trip
Trips are the culmination of several elements of your GTFS, including your Routes, Stop Patterns, Timed Patterns and Calendars. You need the following before you can create a Trip.
Route: Trips are assigned on a per-Route basis. If a Trip is shared between several Routes, the one that makes the most sense to a rider should be used.
Stop Pattern: Each Trip must follow a defined Stop order, as established in the Stop Pattern.
Timed Pattern: Each Trip must follow a defined timing, as established in the Timed Pattern. Unlike a editing a Timed Pattern, you can only edit the start time of a Trip, so all other stop times must be defined in the Timed Pattern prior to scheduling a Trip.
Calendar: Each Trip must be assigned to a single Calendar. If a Trip should exist on several Calendars, it will need to be duplicated so it appears on each separately.
How Trips are Displayed in GTFS Manager
Below, we see a Monday-Friday Schedule for Route 4A.

Each Trip element is captured (Calendar is not shown in below image):

In this example, there are three Trips scheduled for Route 4A that run Monday through Friday. In GTFS Manager, these Trips look like this in the Schedule Pane - Timeline View:

Note that there are three different Stop Patterns, each with one Timed Pattern.
These same Trips look like this in the Schedule Pane - Timetable View: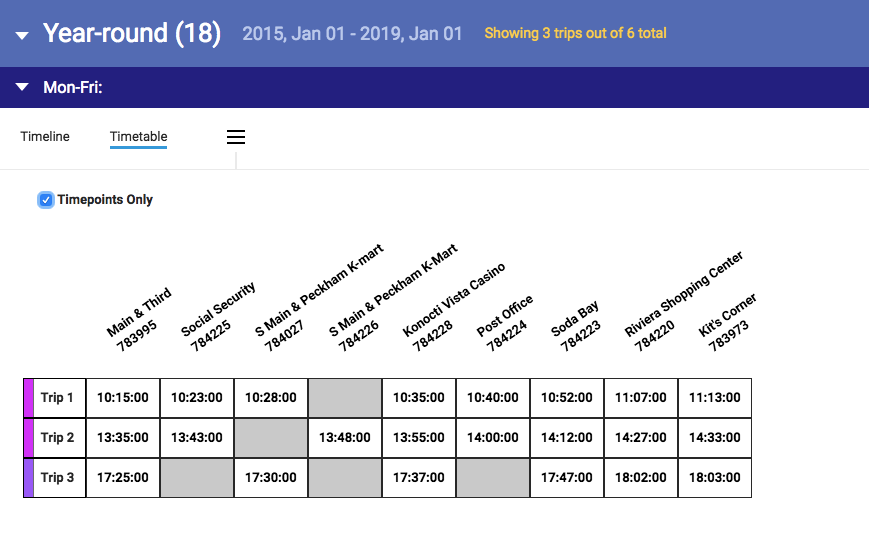 Same information, displayed two different ways!
Learn More: