Calendars are how Route Schedules are organized in your GTFS. Depending on the complexity of scheduled service, your agency may have one, or many, Calendars.
Overview
Sorting Calendars
To make it easier to locate specific calendars, they may be sorted by id, name, Service Period, or filtered manually.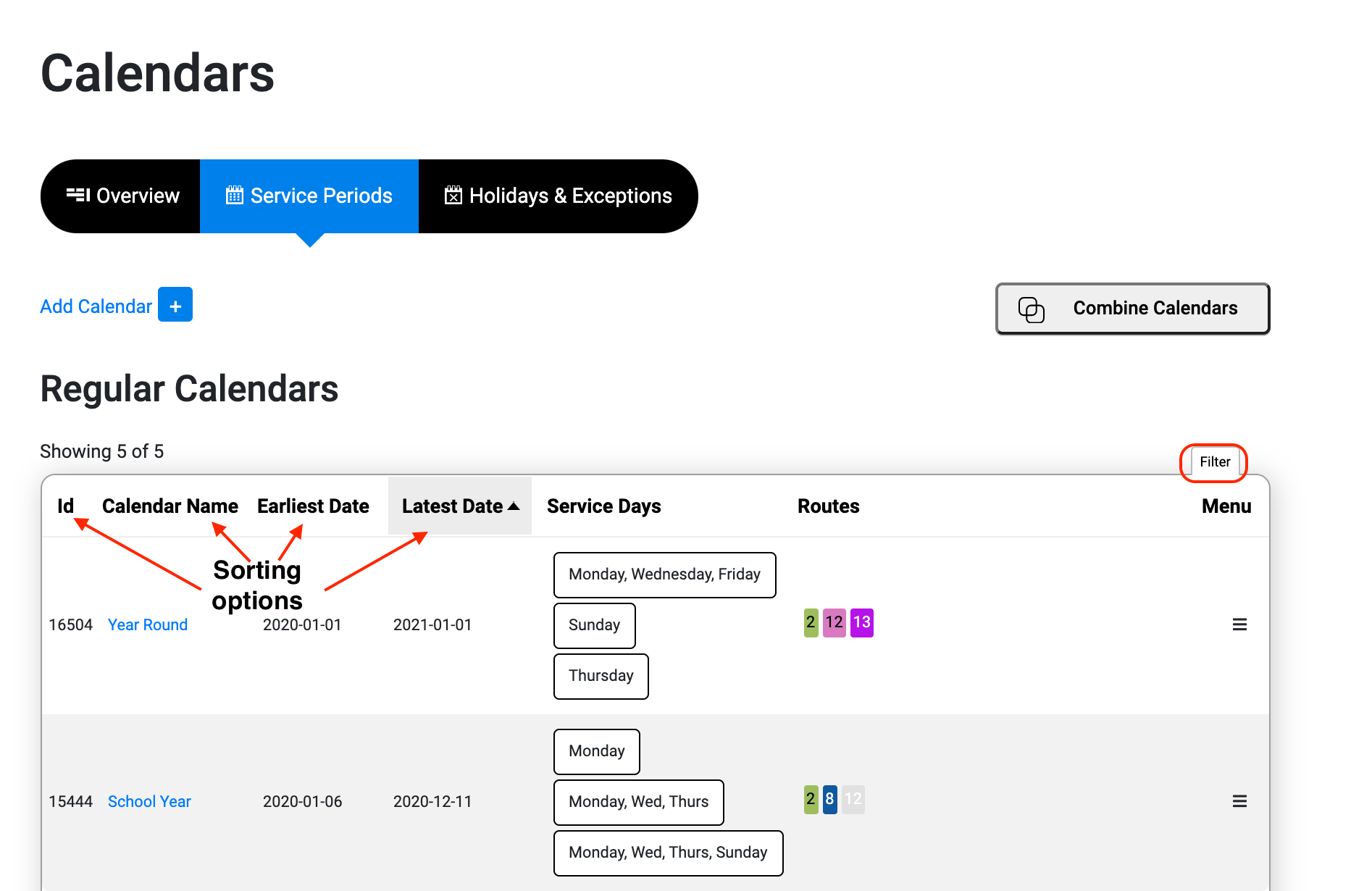 When to Use 1 Calendar
If your agency only has regularly scheduled service every week, you only need one Calendar. There is no need for separate Calendars for weekend service and no need for separate Calendars for each Route.
When to Use >1 Calendars
Academic and School Service
If some Routes and/or Trips are only scheduled when school is in session, a separate Calendar that aligns to local school or university academic calendars is needed. Typically, this Calendar requires frequent updates to the Service Periods, to account for breaks in session.
If a different set of Routes and/or Trips occur only when school is not in session, an additional Calendar accounting for the in-between schedules is needed as well.
Seasonal Services
If some Routes and/or Trips are only scheduled for defined seasonal service (such as a summer trolley or a winter ski shuttle,) a separate seasonal Calendar is needed.
Scheduled Service Changes (one time, annual)
If your Schedule will be changing, either one-time (such as a permanent service change,) or on an annual basis (such as peak season service,) separate Calendars are needed for existing service and upcoming, changed service. If a change is permanent, expired Calendars may be deleted after the service change has occurred. If annual, out-of-service Calendars should be kept for future use.
Learn more:
Semi-Monthly Service
If some Routes and/or Trips occur on a frequency of less-than once per week (such as a 2nd and 4th Tuesday shopping shuttle), those Routes and/or Trips need to have their own Calendar. Since scheduled Trips will operate weekly, a separate Calendar with Service Periods that include only the days/weeks serviced is needed.
Learn more:
Short-Term Calendars
GTFS is unable to accommodate short-notice service exceptions (such as bad weather or heavy traffic,) but is able to anticipate scheduled service disruptions, such as holidays or construction detours.
GTFS best practice encourages short-term Calendars that are at least two weeks long; anything shorter should be handled with Calendar Exceptions.
For more information on short-notice service disruptions, learn more about Trillium's Transit Alerts. Transit Alerts allow an agency to quickly broadcast service changes in real time, letting riders know about disruptions as they occur.
Learn More: