The final piece of a Route is the Schedule. This is where the Stop Patterns and Timed Patterns are assigned to Trips in your GTFS.
Overview
How to Navigate in the Schedules View
The Schedule for a single Route contains two different views and several different ways to organize each.
The Schedule Headers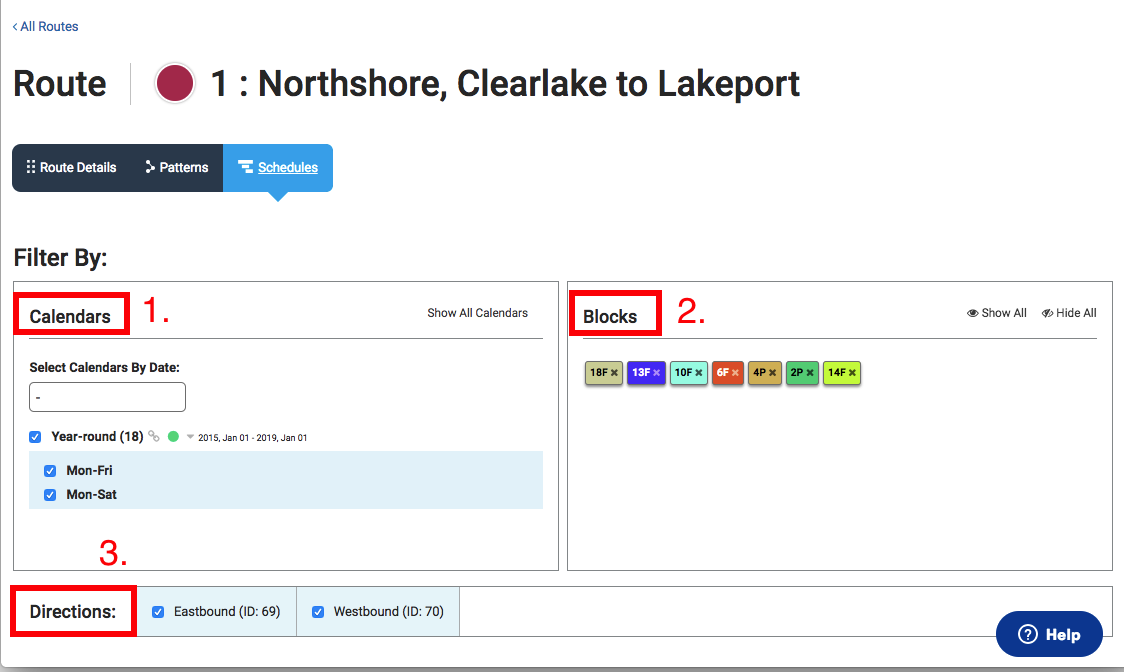 Calendars: These are the available Calendars for which Trips can be scheduled. Default is any Calendar with a Trip assigned. Selecting Show All Calendars will provide additional Calendars to choose from, if any.
Blocks: These represent currently assigned Blocks for this Route. Any time a new Block is added to a Trip, if not already available, it will be added to the list of available Blocks.
Directions: These are the available Directions associated with the Stop Patterns used in Trips. If Directions are not used on this Route, this will default to No Direction.
These can be used to Filter your Trips, to make it easier to review your Schedule. New features are being added to the Schedule header, so keep an eye out for new functionality!
The Schedules Pane - Timeline View
The Schedules Pane has two Views: Timeline and Timetable. The first one, Timeline, is the default when navigating to the Schedules Page and provides a graphical representation of your Schedule.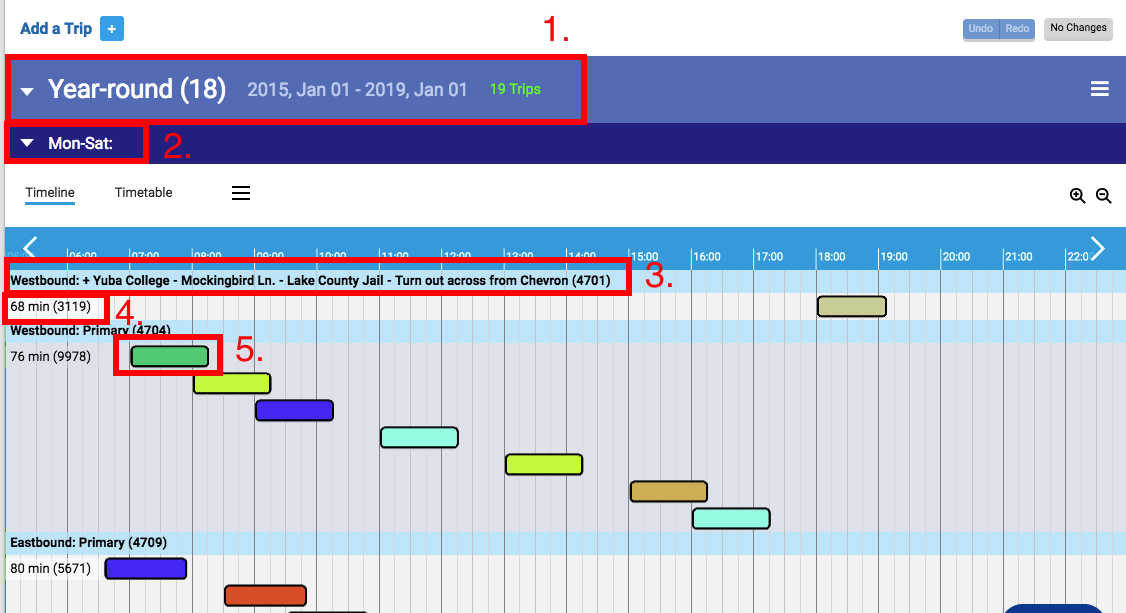 How to Sort The Schedules Pane - Timeline View
The Timeline View can be sorted three ways: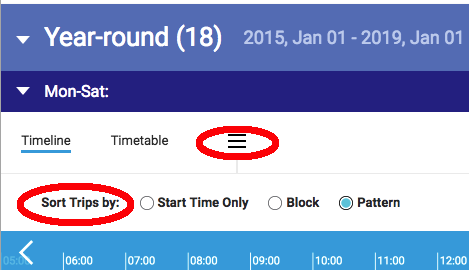 1. Start Time Only: This will display each Trip sequentially, regardless of Direction, Pattern or Timed Pattern.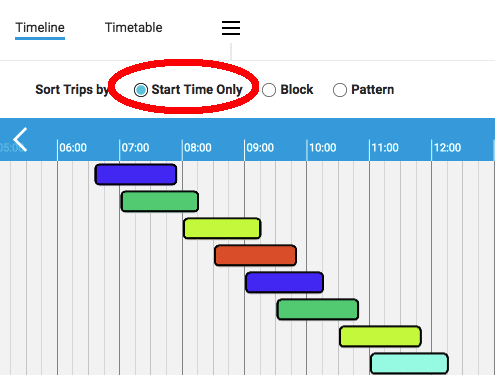 2. Block: This will cluster Trips first by Block, then by Start Time.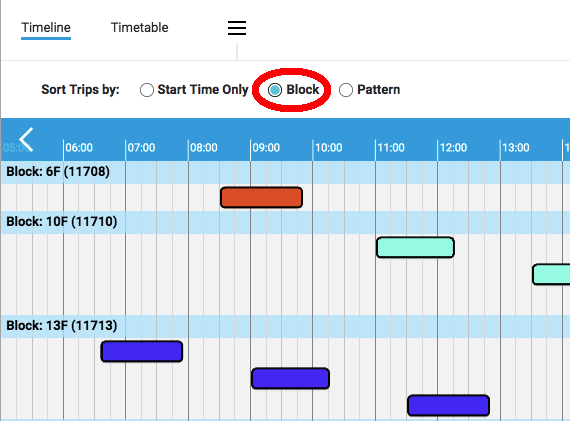 3. Pattern: This is the default view detailed above.
The Schedules Pane - Timetable View
This is the most familiar display in all of GTFS Manager
Resembling a traditional transit timetable, this display allows the review timing details throughout the schedule.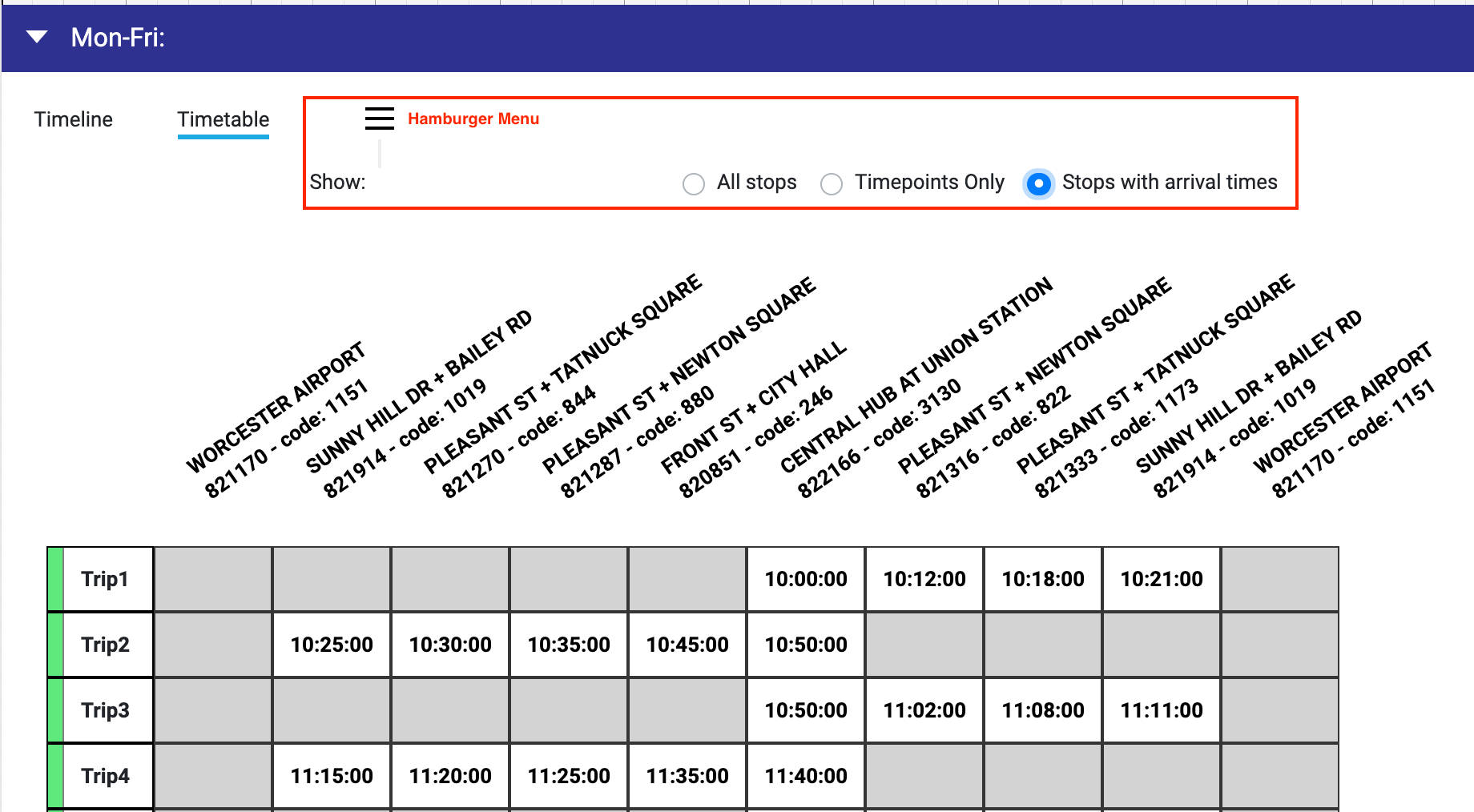 The Timetable is easiest to view when filtered by Direction and either Timepoints Only or Show Stops With Arrival Times turned on. These filtering options can be found under the "hamburger" menu in Timetable View.
Trips are sorted by start time automatically, assigned a numeric value (such as "Trip 1" and "Trip 2") and if Blocks are used, the Block color is shown to the left of the Trip's numeric value.
Learn More: