Loop Routes begin and end at the same Stop and have a few other unique attributes and requirements.
What Makes a Loop?
Loops should only be used in the GTFS if:
There is no obvious directionality to the route, such as a circulator route. If a route has a directionality to it, such as inbound/outbound or northbound/southbound, a rider will better understand which direction they are heading by having the route split by direction of service.
There are no alignments where service is provided on both sides of the street by the same route. If a route performs a section of a single street for a time, then opens up onto a loop (called a 'lasso') then it may still be a loop only if there is no directionality to the lasso.
A rider will clearly understand where the bus is heading next. This is particularly true when using wayfinding applications that use the rider's location to offer suggestions about possible destinations, such as the Transit App.
Loop Route-specific GTFS Requirements
Stops
Loop Routes must start and end at the same Stop. Partial Patterns (such as the last run of the day ending before completing the loop or returning to the garage,) are exempt from following this convention.
If a Stop is serviced multiple times, it cannot be re-selected from the Stop Order edit mode on the Map View. It must be added via List View. GTFS Manager will display the last stop sequence number in Map View.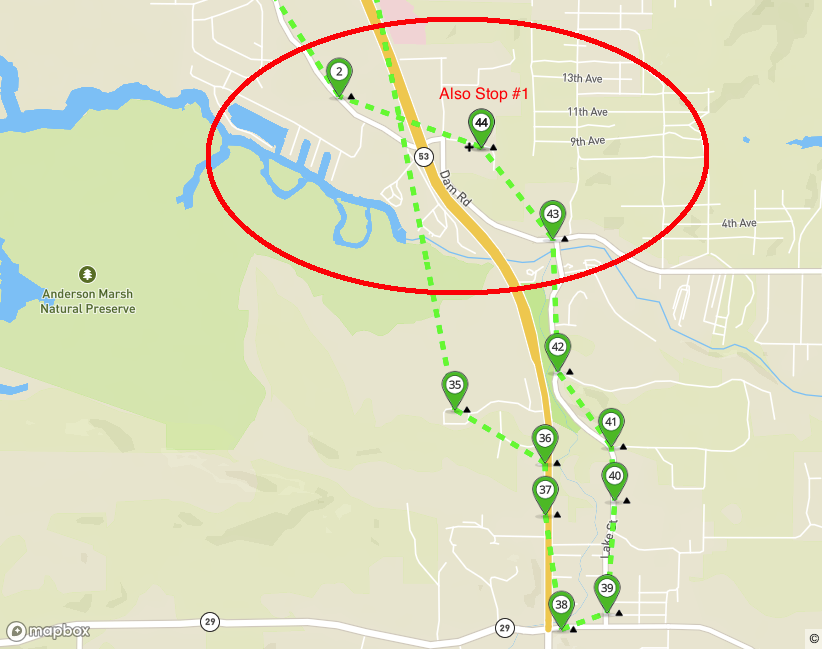 Directions
Directions used should either be "No Direction" (default in GTFS Manager), or additional directions such as "Clockwise" and "Counterclockwise" can be added. Learn more about Directions.
Headsigns
If no Headsigns are used on vehicles performing loop routes, the Headsign "Loop" is allowable. Learn more about Headsigns.
Trips
If a rider is allowed to stay on the vehicle between Trips (such as boarding near the end of one loop, and riding through to a stop on the next loop,) the in-seat transfers allowed checkbox must be checked.
Learn More: