Block Schedules are a way to visualize a single Block across Routes and Calendars and identify when there are overlaps (a common validation error)
Navigating the Block Schedules
From Blocks, select Block Schedules.
If there are no overlapping blocks (see below), select any Block to pull up its complete Schedule information: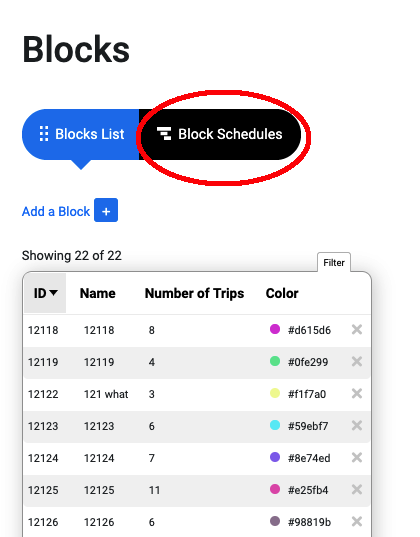 Once selected, scroll down to choose which filterable elements to include in the Schedules Timeline and Timetable Views.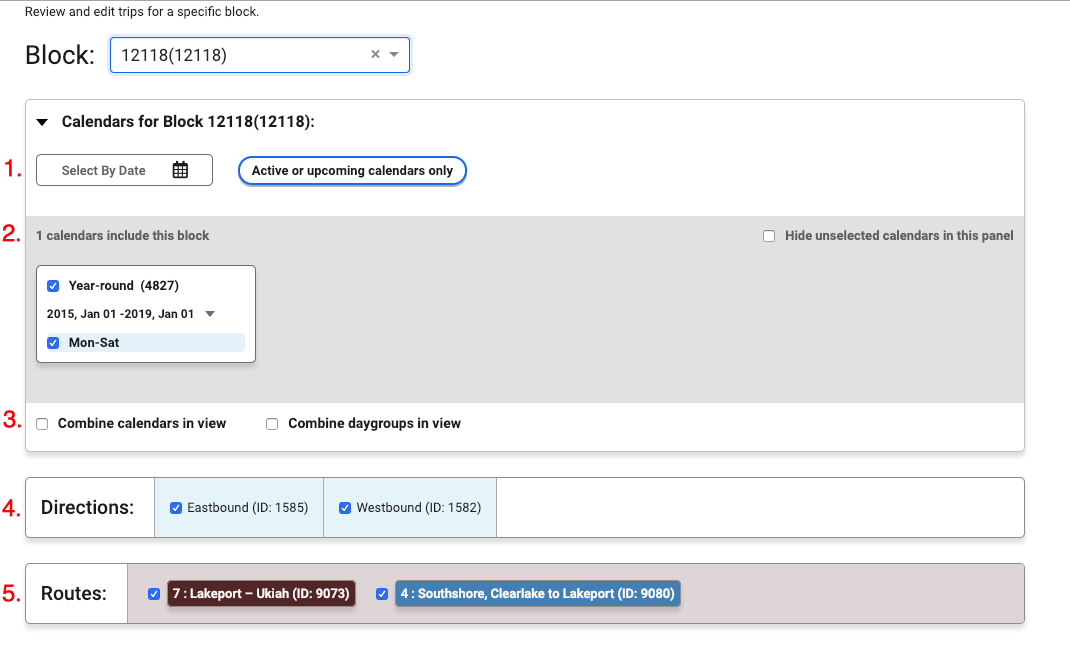 1. Select By Date
Depending on the complexity of the Schedule, it may make sense to look at a specific date to understand how the Block is used on that Date. This may also be useful for determining "What does Block A do on Mondays?"
2. Calendars to Include
If a Block is used in multiple Calendars, such as a Year-Round and School Year Calendar, this allows selection of one or more Calendars in the Timetable/Timeline.
3. Combine Calendars/Day Groups
If a Block is used in multiple Calendars, or in multiple Service Days, it may be advantageous to combine one or both of those elements in the Timeline/Timetable. Note that this may produce a visualization that does not reflect a single 'run' of a Block as it could contain Trips that occur on different days.
4. Directions
Filtering by Direction is the same as in Schedules.
5. Routes
Unique to Block Schedules is the ability to combine multiple Routes in the Timeline/Timetable. The Route colors are applied to the Block (which overrides the Block's color.) This is particularly helpful if a Block interlines.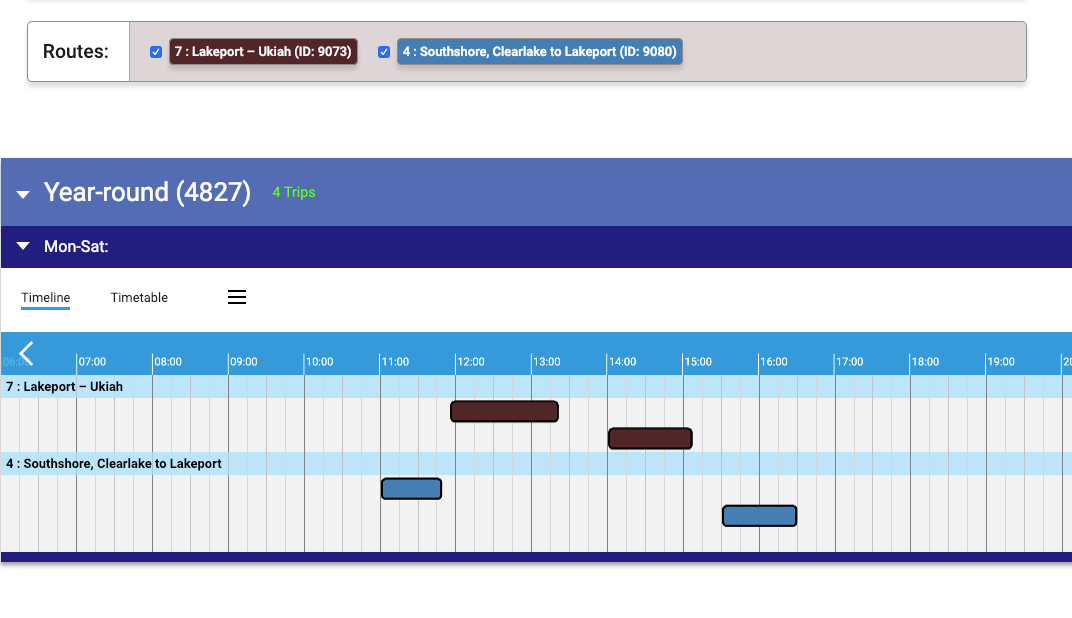 Editing Trips in Block Schedules
At this time, editing is not available in Block Schedules. Selecting a Trip will bring up that Trip's details, but making changes, or Deleting a Trip, is not available.
Overlapping Blocks
If any Block in the GTFS is overlapping, the Block will be highlighted at the top of the Block Schedules: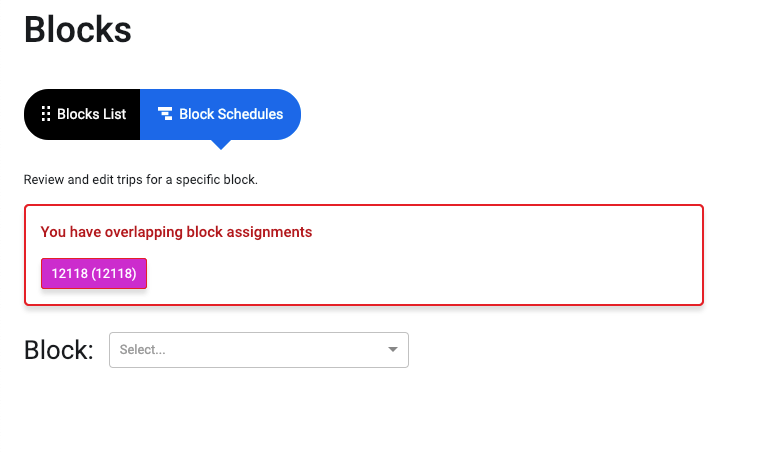 Selecting the Block will bring up the Block Schedule, including a list of upcoming dates of service where the overlap is occurring (particularly if the overlap is caused by a Service Exception):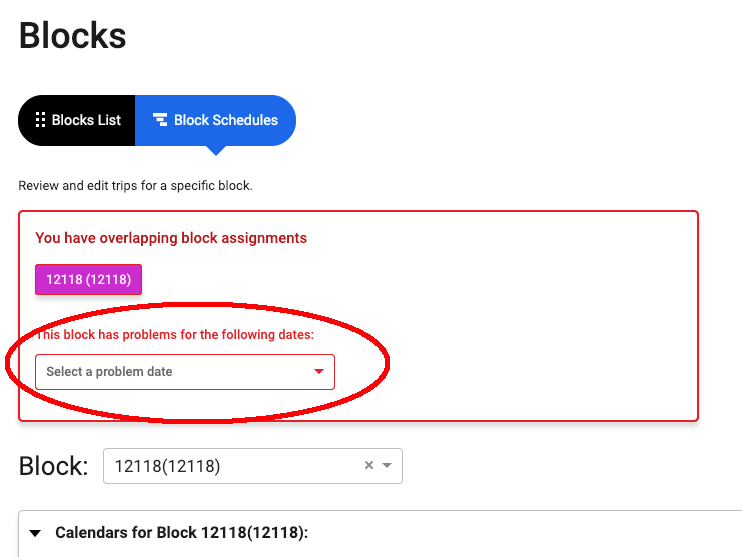 Scrolling down to the Schedule, the problem overlap is flagged in red:
Since it is not possible at this time to edit the Trip from the Block Schedules view, selecting one of the Trips allows for a link to "Edit Trip in Route Editor".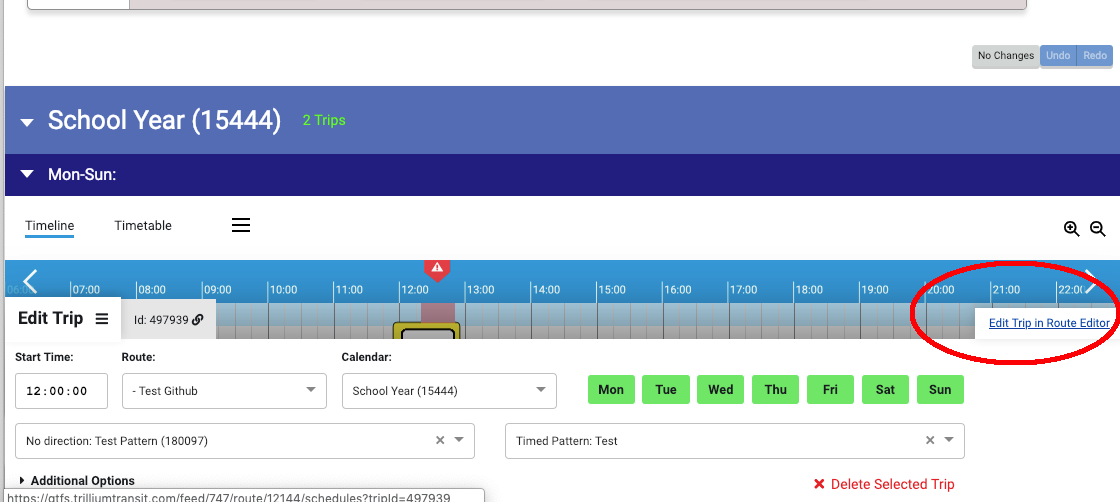 Learn More: